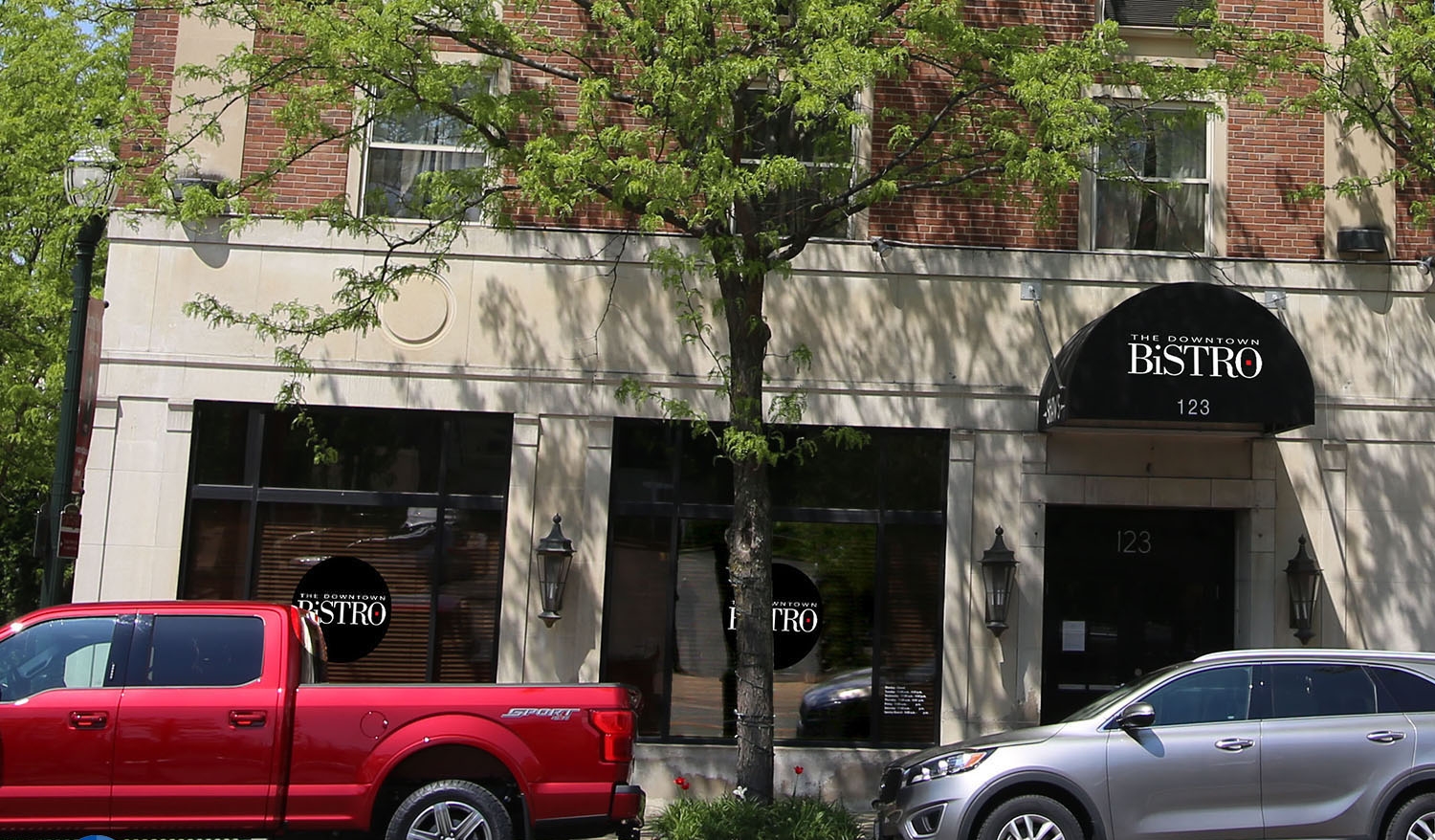 Your bistro... downtown
A heart for lancaster × Crafted with Love
Located on Zane Square in the historic Hotel Lancaster, the Downtown Bistro is a purveyor of fine American dining from Chef Michael Cotter.
Come in and sample our selection of great dishes.
Click here to check out some great events.
Phone
(740) 785-9900
Location
123 North Broad Street
Lancaster, OH 43130
Hours
Mo-Th 11am–9pm
Fr-Sa 11am-10pm
Su 11am–8pm
$

9
Bistro Shrimp Cargot
Shrimp in a garlic, cream sauce with spinach and melted mozzarella, served with grilled pita.
$

13
Charcuterie Board
A tasty combination plate of fresh fruit, cheeses (creamy horseradish Cheddar and Havarti dill), and dry Bianca D'Oro® salami. Served with a pleasing cracker selection. (Enough to share)
$

9
Steak or Chicken Quesadilla
Sirloin steak or chicken in our signature sweet and tangy marinade, Colby-Jack melted, on a butter grilled flour tortilla. Served with salsa, sour cream, lettuce, fresh tomatoes and pickled jalapeno slices.
$

8
Stuffed Mushrooms with Garlic Butter
Mozzarella, Parmigiano-Reggiano and cream cheese topped with breadcrumbs.
$

8
Bistro Pretzel Breadsticks
Three breadsticks with Boars Head® white cheddar beer cheese.
$

7
Skirt Steak Wonton Tacos
With avocado, salsa, red cabbage, red pepper and green onion.
$

10
Crab Cakes
Three, 2 ounce crab cakes.
$

8
Kopanisti & Tzatziki
Spicy roasted red pepper feta dip and cool cucumber yogurt sour cream sauce served with two warm grilled pitas.
$

7
Onion Rings
Crisp fried onion rings with spicy horseradish mayo.
SOUPS & SALADS
Lunch sized portions of all salads available 11am-4pm - $9 (**Gluten Free available upon request)
$

15
Caesar Salad with Salmon**
6 oz. blackened salmon, greens, Caesar dressing, croutons, Parmigiano-Reggiano and bacon.
$

15
Salmon Spinach Salad**
Fresh baby spinach leaves, croutons, sautéed mushrooms, freshly grated parmesan, topped with hot bacon dressing, and seasoned grilled salmon.
$

13
Autumn Harvest Chicken Salad**
Fresh local greens, red Bartlett pears, Honeycrisp apples, raspberry, walnuts, oven-roasted chicken breast, carrots, fresh Parmigiano-Reggiano, drizzled with our chef's own Honeycrisp vinaigrette.
$

12
Chef Salad**
Dry salami, turkey, fresh greens, carrots, red peppers, onions, cucumbers, tomatoes, Colby-Jack cheese and choice of dressing.
$

12
Cranberry Pecan Chicken Salad**
Fresh greens, chopped pecans, bacon, scallions, carrots, oven-roasted chicken breast, fresh grated Parmigiano-Reggiano. Served with raspberry vinaigrette.
$

12
Mediterranean Salad**
Your choice of chicken or gyro meat, fresh greens, cucumber, tomatoes, onion, Kalamata olives, topped with crumbled feta cheese and served with house-made garlic dressing. Spicy, add 75¢
$

3.50
Side Salad**
**GF available upon request
$

3
Mushroom Soup
Our house-specialty
$

3
Soup du Jour
Ask your server about the soup of the day
$

6
Lobster Bisque
Weekends only
Dressings
Ranch • Thousand Island • House Honey Mustard • Raspberry Vinaigrette • Balsamic Vinaigrette • Honeycrisp Vinaigrette • Blue Cheese • California French • Royal Caesar • Hot Bacon Dressing • Italian • Oil & Vinegar (All our dressings are gluten free.)
ENTREES
**Gluten free available upon request.
$

28
Angus Fillet**
8 oz. choice tender fillet smothered in special house-made bourbon glaze, with asparagus and potato of the day. (**GF available upon request)
$

16
Center Cut Angus Sirloin**
8 oz. center cut sirloin smothered in a house-made bourbon glaze with broccoli crowns in butter and potato of the day. (**GF available upon request)
$

25
New York Strip**
20 oz. strip steak with house potatoes. (**GF available upon request)
Half Rack $16 / Full Rack $25
Fall Off the Bone BBQ Ribs**
Served with fresh cut fries or cole slaw. (**GF available upon request)
Half Rack $16 / Full Rack $25
$

19
Prime Pork Chop**
10 oz. bone-in pork chop served with potato of the day and asparagus. (**GF available upon request)
$

14
Chicken Alfredo
With broccoli, garlic bread and side salad.
$

15
Chicken Parmesan
Over linguine, house-made marinara. Served with garlic bread and side salad.
$

12
Buttermilk Battered Chicken Fingers
Served with fresh cut fries and coleslaw. Your choice of dipping sauce: sweet chili or house-made triple mustard honey.
$

14
Fish and Chips
Three, fresh, 3 oz. Atlantic cod loins fried golden brown in our own beer batter. Served with cole slaw and fresh cut fries.
$

17
Salmon**
In dill cream sauce with asparagus and roasted red potatoes. (**GF available upon request)
$

21
Pan Seared Sea Scallops**
Sea Scallops with blackberry compote, grilled vegetable medley and rice pilaf. (**GF available upon request)
$

15
Fish Tacos
Grilled salmon marinaded in toasted sesame honey ginger sauce with Asian slaw, stuffed into three fresh wonton shells topped with avocado, fresh red pepper and scallions. Served with dirty rice pilaf, seasoned black beans, sour cream and salsa.
$

18
Shrimp Scampi Skewers**
Half pound of shrimp sautéed in garlic butter, served with rice pilaf and grilled vegetable medley. (**GF available upon request)
$

18
Crabmeat Stuffed Flounder
Lightly floured and pan seared, served with white wine butter sauce, potato of the day and grilled vegetable medley.
$

17
Shrimp & Scallop Linguine
Fresh bay scallops and white tiger shrimp sautéed with green and red peppers, red onions and garlic in white wine and olive oil, butter, Parmigiano-Reggiano, with a hint of fresh parsley. Served with a salad and garlic bread.
Add a side salad to any entrée for $1.
Split plate charge $2.
Menu subject to change. Consuming raw or undercooked meats, poultry, seafood, shellfish,
or eggs may increase your risk of foodborne illness.
$

9
Mediterranean**
Sautéed green and red peppers, onions, mushrooms, olives, feta, mozzarella and a touch of garlic. (**GF available upon request)
$

9
Italian**
Marinara, dry salami, mild banana peppers, red onions and mozzarella cheese. (**GF available upon request)
SANDWICHES
Served with fresh cut fries.
$

11
Bistro Burger
8 oz. All-Ohio brisket-blend, Boar's Head® bacon, cheese, sautéed onions and mushrooms.
$

11
Trevor-Nator Burger
8 oz. All-Ohio brisket-blend, Boars Head® bacon, sweet & spicy BBQ sauce, with melted American cheese.
$

9
Havarti Grilled Cheese
A creamy, mild imported cheese on a thick multi-grain bread. Served with a dollop of blackberry jam.
$

11
Chicken Club
Grilled chicken breast freshly grilled bacon and melted American cheese served on a brioche bun with lettuce, tomato, and mayo.
$

9
Greek Gyro
Fresh grilled pita bread, chicken or juicy gyro meat (lamb and beef) shredded lettuce, tomatoes, onions, cucumbers, Kalamata olives, tzatziki sauce and grated feta cheese.
$

11
Downtown Philly
Thinly sliced, grilled choice sirloin steak, with sautéed onion red and green bell peppers, mushrooms and melted mozzarella on an Italian roll.
$

13
Impossible™ Veggie Burger
The meatiest veggie burger you'll ever taste. Made from simple plant based ingredients, including wheat protein, coconut oil, potato protein, and heme. The Impossible Burger™ has a protein content above 80/20 ground beef. For more information go to www.impossiblefoods.com.
Salad substitution + $1.
Gluten free bun available for all sandwiches + $1
$

3
Grilled Vegetable Medley
KIDS MENU
ALL KIDS ITEMS $4.95
Kids Burger Bites & Fries
Kids Cheese Pizza & Fries
$

2.39
Soda & Tea
Coke, Diet Coke, Cherry Coke, Sprite, Root Beer, Lemonade, Iced Tea (sweet or unsweetened).
$

3.29
Iced Tea Quenchers
Lemon or peach, made with sweet or unsweetened tea.
$

3.29
Lemonade Quencher
Fresh mint, and extra lemon, peach, or strawberry.
$

4.95
Shakes
Strawberry, Oreo, Chocolate, Peach or Vanilla.
$

2.50
Hot Tea & Coffee
Featuring Harney & Sons fine teas in cloth sachets: Earl Grey Supreme, Hot Cinnamon Spice—ask your server for full selection.
$

2.50
Kids drinks
Two fun options:
Shirley Temple - Sprite, grenadine
Roy Rogers - Coke, grenadine
$

6
Tiramisu 'pick me up'
Italian coffee-flavored dessert
$

7
New York Cheesecake
with choice of strawberries or caramel
$

6
Chocolate Lava Cake
with ice cream and chocolate sauce
Ask about other special desserts we might have!
$

7
Clint Eastwood Manhattan
Bulleit™ Bourbon, sweet Vermouth, orange bitters.
$

7
Rum Delight
Coconut rum and spiced rum with a blend of pineapple and orange juices.
$

7
Casa Rita
Our house margarita on the rocks. Tequila, orange liqueur, lime juice and simple syrup.
$

8
Tiki Punch
Spiced rum, gold rum, pineapple juice, simple syrup and lime juice.
$

8
Madres Mimosa
Cranberry, Champagne and orange juice.
$

7
Irish Mule
Jameson™ Irish whiskey, ginger beer and lime juice.
Family is the word which best describes our values and has been the bond of strength for our small town Bistro since its inception.
Gathered around the dinner table, Mike Cotter and his family (Mom, Dad, Papaw, Nana, Sis, Aunt Jan, wife Heather and all the kids) discussed the nuances of his job as an executive chef and the dream of actually owning a restaurant. In summer of 2015 Mike, Mom, and Papaw made a pact to give it a go—Mom as financial officer and baker, Mike as restaurant manager and chef, and patriarch Clark, as chief taster, speculator, mascot, and most importantly, investor and believer. As head waitress relaying messages from the customers back to Mike, Heather—the strong wife—also held down the fort at home.
We became better acquainted with our customers and community at the Bistro and through catering for many local businesses and events. The business grew as did the Bistro family—staff, farmers, sales reps, and repairmen, all working together to serve the finest, freshest, best tasting food to the Lancaster community—family.
We moved from Main Street to Downtown in summer of 2018—celebrating our third year in business in September. Gathering more people into the family we have never felt more at home. We feel so fortunate to have the opportunity to serve our Lancaster community—our family. If there is any way we can serve you better—I'm sure I am around here somewhere—I would be honored to have the chance to meet you and welcome you into the Bistro family.
Mike Cotter, Executive Chef

Location
123 North Broad Street
Lancaster, OH 43130
(740) 785-9900
Contact Us
We'd love to hear from you. Send us your comments, suggestions or requests.